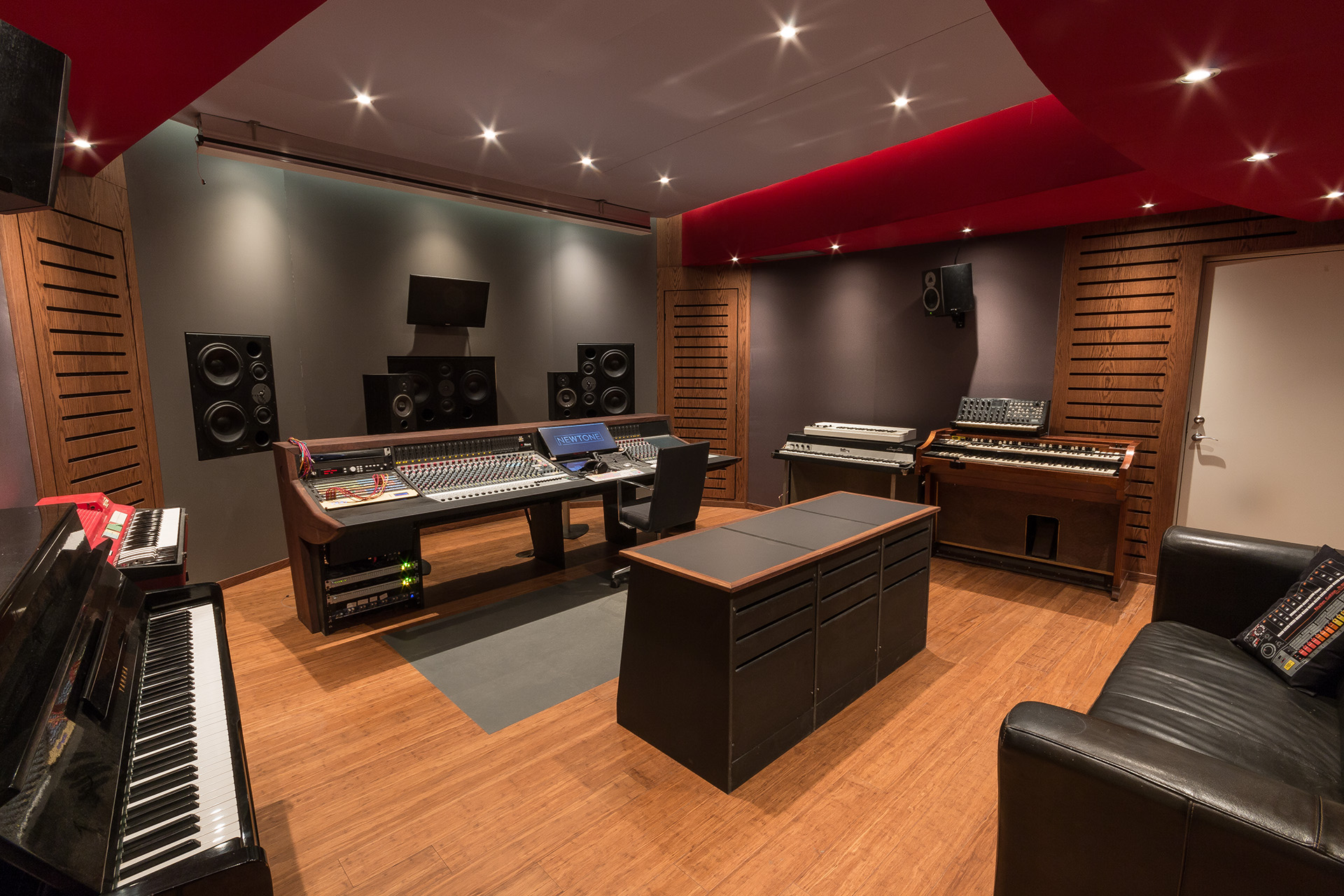 Studio / Control room
Based at Kalbakken in Oslo, Newtone Studio is a recording and mixing facility tailored to meet today's music and media requirements.
We offer platform independent recording and mixing facilities to meet a wide range of needs within audio recording, mixing and post-production.
With a acoustically controlled environment, state of the art recording equipment and top quality vintage and modern instruments you are sure to achieve the best possible results.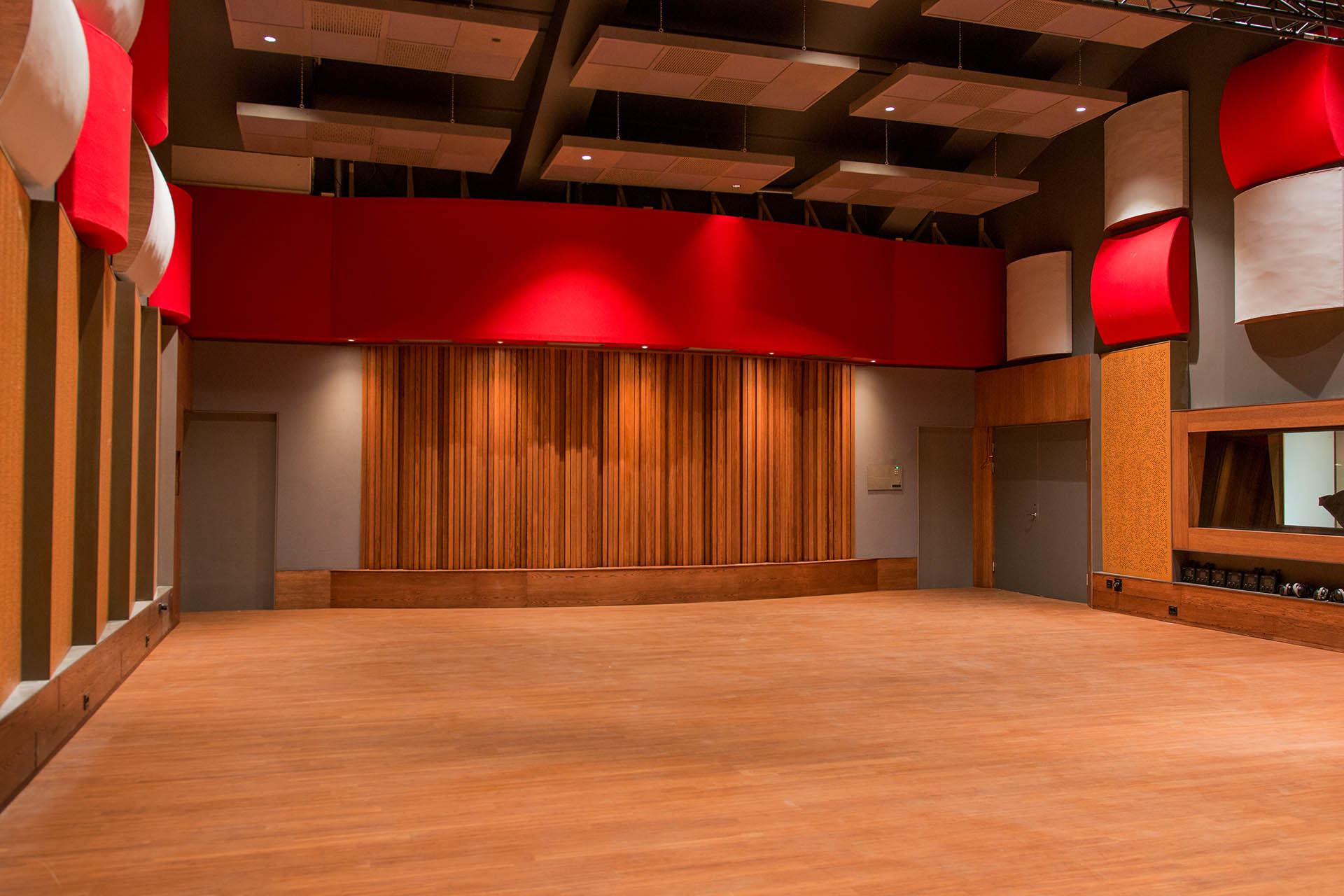 Studio A
Our spacious studio A is equally suited for recording classical music, acoustic jazz or rock drums.
With a generous size, measuring about 135 m2 and with a ceiling height ranging from 4.5 to 6.5 meters we can accommodate any recording. The room is acoustically treated for recording, but the room is also treated with the aim of playing amplified music, and is therefore also a great place to host smaller in studio concerts, and is the home of Oslo Preprod.
For recording we have available a top of the line Bösendorfer 225, and a vast amount of vintage keyboards; a selection of Hammond Organs with Leslie, Rhodes Suitcase and Hohner Clavinet D6 to name a few. And of course a range of guitar and bass amplifiers. For a complete backline list, please check out the Gear and Instruments section.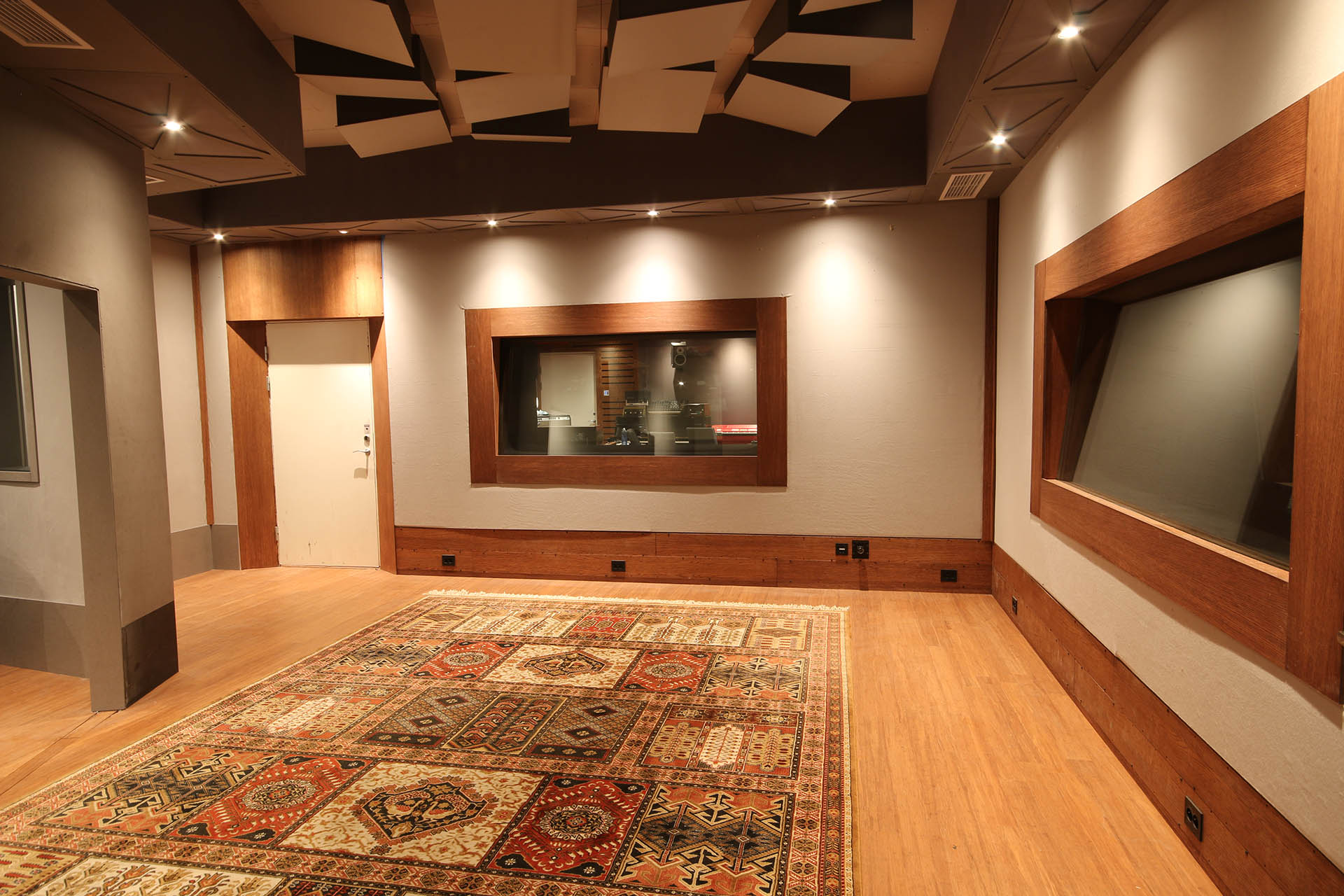 Studio B
Our smaller studio B is measuring about 45 m2, including an isolated booth which is big enough to fit our Bösendorfer 225. Though not very large, through the acoustic treatment, the room sounds great for drum recording. And with the isolation booth and our amplifier cabinets, you can do a full scale band production with only studio B if needed.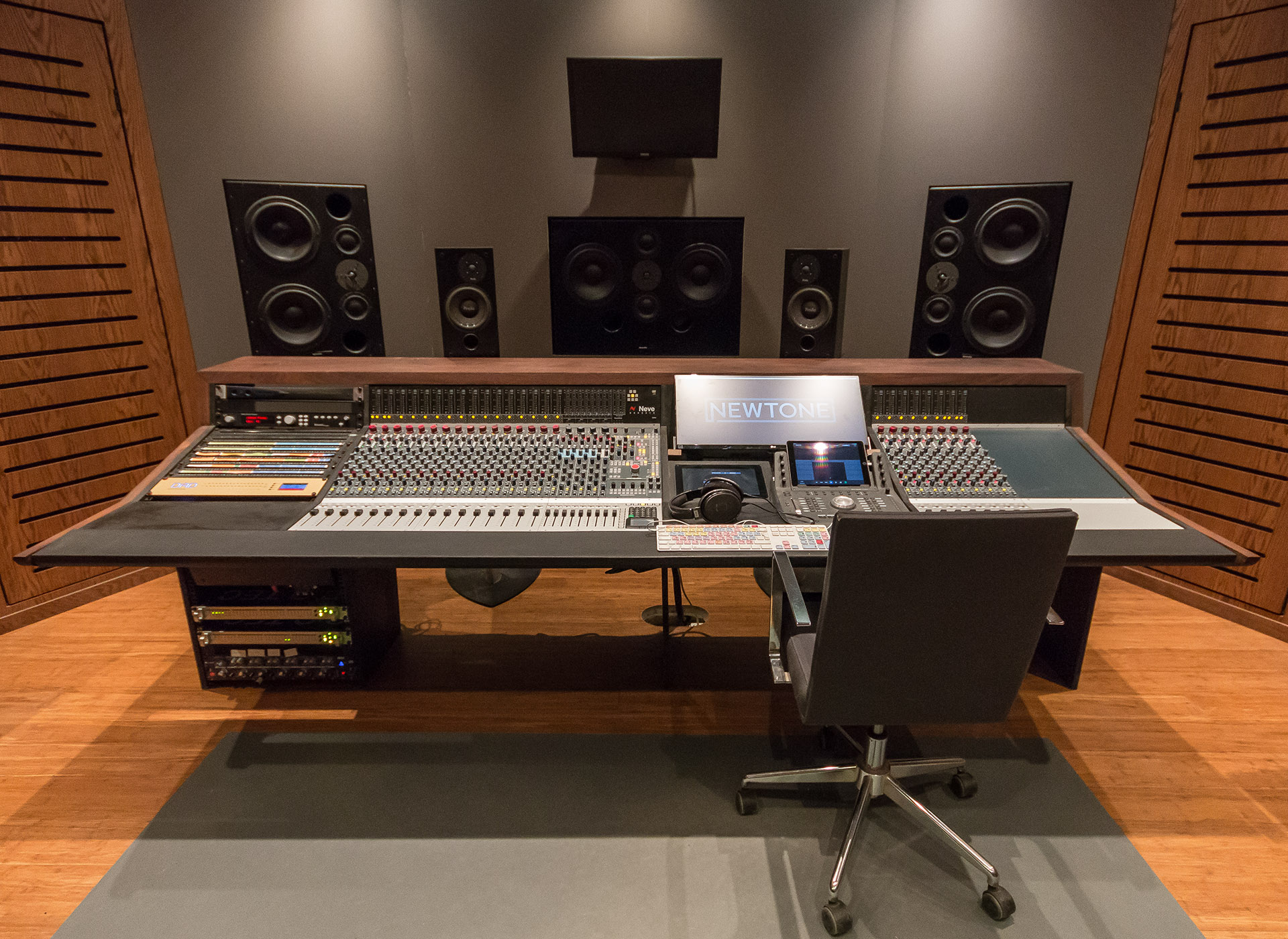 Gear and Instruments
We are proud AMS Neve endorsers so our control room is based around a brand spanking new analogue Neve G48 Mixer.
The mixer is equipped with 64 IO to Pro Tools HDX and Native systems through Direct Out and DAD converters.
We have a large selection of outboard equipment, including quite a few esoteric vintage pieces, please have a look at our equipment list below.
The control room offers recording and mixing to stereo, 5.1 mixing with Dynaudio M3 as LCR monitors, and Dynaudio BM6A as rear monitors.
Equipment list
Console
Neve Genesys 24 channels
Tore Seem/Seem Audio Seesam II 8-ch mixer
Monitoring
Dynaudio BM6A
Dynaudio M3
Dynaudio BM5A
LAB Gruppen IPD 2400 (4x)
TC Electronic Clarity X
Recording
Avid Pro Tools HD
DAD AX32 AD/DA/DD Converter
DirectOut Technologies ANDIAMO 2 (2x)
Outboard effects
Alesis MIDIVerb II
Binson Echorec
Bricasti M7 Reverb
Cloud Cloudlifter CL-1
Div saturation tools (tape comp, trafo saturation and class A distortion)
DynoMyPiano Tri Stereo Chorus
IGS Audio Panzer 500 Rack og PSU
IGS Tubecore 500 Vari-Mu Compressor w linkable sidechain (2x)
Kush Audio Clariphonic
Kush Audio Fatso
Lindell Audio 7X-500 Fet Compressor
Newtone DBX 160VU (Dual)
Newtone Dual LA2A
Newtone LA4 opto compressor
Newtone SSL buss compressor (2x)
Songbird Cyclosonic Panner FS-1D
Sony DPS-V55 Multi Effect Processor
Tore Seem M2000 preamps 4x
Tore Seem Discrete passive class A Eqs 3x
Universal Audio LA-610
Vintagedesign CL1 MKII
Warm audio WA76 compressor (2x)
Yamaha SPX-90
Microphones
AEA R44CE (2x)
AKG D112
Coles 4038 (2x)
Dayton Audio EMM-6 (2x)
DPA 4006 (2x)
DPA 4011 (2x)
DPA 4099
Line Audio CM3 (2x)
Neumann U47
Oktava 316 Michael Joly modded
Oktava MK-012 Michael Joly modded w/Cardio, omni and K47 capsule
Royer 121 (2x)
Schoeps MK6 with MK21 capsule (wide cardiod) (3x)
Schoeps MK6 with MK5 (switchable Cardiod/Omni) (2x)
Sennheiser 441 (2x)
Sennheiser 421 (3x)
Shinybox 46
Shure Beta52A
Shure SM58 modded w TAB Funkenwerk AMI T58 Transformer
Stam Audio 47FET (2x)
Telefunken M811
Wunder Audio CM12
Wunder Audio CM67 (2x)
Keyboards & Electronic instruments
Bösendorfer 225, 92 key grand piano
Dave Smith Instruments Evolver
Dave Smith Instruments Prophet-6
Eminent Solina MkII
Farfisa Combo Compact
Fender Rhodes Mark I 1973, suitcase
Fender Rhodes Mark I 1978, suitcase
Fender Rhodes Mark I 1978 DynoMyPiano, stage
Fender Rhodes Mark II 1981, stage
Hammond A100 1961, Leslie 142
Hammond B3 1968, Leslie 122
Hammond C3 1952, Leslie 145
Hohner Clavinet D6 (2x)
Hohner Clavinet D6/E7 w/vintagevibe preamp
Korg DW-6000
Korg MS-20
Korg Polysix
Korg R3
Mellotron M4000D mini
Moog Voyager
Nord Modular G2X
Nord Electro 5D
Nord Stage 73-key waterfall
Novation Supernova
Philicorda GM751
Roland D-50
Roland FP4-f
Roland JV-1010
Roland MKS-20 piano module
Studiologic Acuna 88
Viscount Intercontinental
Viscount KeyB Legend
Viscount KeyB Legend Live
Wurlitzer 200
Wurlitzer 200A
Yamaha CS80
Yamaha FS1R
Yamaha E75
Yamaha M1 upright piano
Guitars & Basses
Chadwick folding bass, carved top
Conklin Groove Tools, 7 string bass
Cort G260 Guitar
Danelectro Dano 63 bass
Epiphone Jack Casady hollowbody bass
ESP LTD Guitar (M-100FM)
Fender Precision Bass '68
Fender Precision Bass '94
Fender dreadnought acoustic guitar 70's
High-end handmade upright bass
Ibanez Gio, 5 string bass
Line 6 Variax 600 Guitar
Modulus Flea bass
Warwick Rockbass Fortress, 4 string bass
Ukuleles & Other string instruments
Alulu Solid Burl Maple Concert Ukulele
Deering 5-string open back banjo
Kala KA-STG Solid Spruce Tenor Ukulele
Koga Taishou Koto
Lanikai (Kohala) HU-212 Nato Soprano Ukulele
Pono MB Mahogany Baritone Ukulele
Rubin RS-101P Zebrawood Pineapple Soprano Uke
Tom TUP-200 Mahogany Pocket Ukulele
Combos, Amp heads and cabinets
Eden WT-500 bass head
Eden 410 XLT bass cabinet
Fender Bassman Silverface '72, amp head
Fender Bassman, Silverface amp head
Fender Blues Junior, combo
Fender Blues Deluxe Tweed 40W, combo
Fender Musicmaster silverface bass combo
Gallien Krueger 1x12" combo
Newtone Princetone, amp head
Palmer PCAB112GBK, 1x12" cabinet
Peavey Bandit, combo
Vox AC-30, combo
Pedal Effects
Blackstone Appliances Mosfet Overdrive
DigiTech Synth Wah Envelope Filter
Electro-Harmonix Deluxe Memory Boy
Electro-Harmonix Small Stone Phaser
Electro-Harmonix Q-Tron Plus
Electro-Harmonix Micro Q-Tron
Fulltone Full-Drive 2
Line 6 Pod XT Live
Lounsberry Tall & Fat
Moen Ulite Compressor UL-CP Optical Comp
Mooer E-lady
Moog Minifooger Ring Modulator
Moog Moogerfooger Analog Delay
Moog Moogerfooger 12-stage Phaser
Moog Moogerfooger Ring Modulator
Newtone Golden Rat
Newtone Screaming Tube
Newtone Germanium Fuzz
Newtone Booster
Newtone XXX Delay
Red Witch Deluxe Moon Phaser
Strymon Blue Sky
TC Electronic Polytune
TC Electronic Sub 'N' Up Octaver
T-Rex Replica
Tom's Line Funk Machine LFO-Wah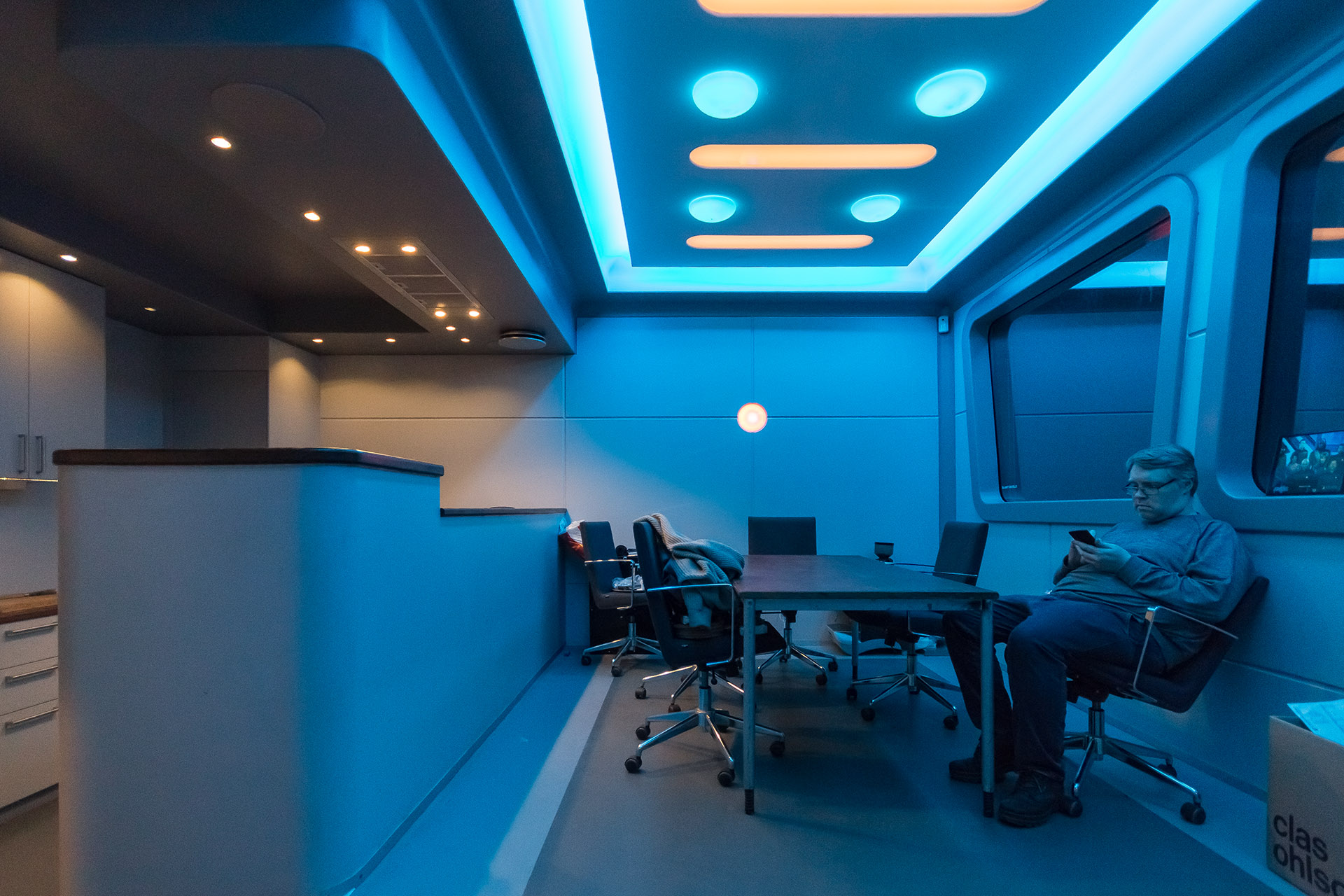 Kitchen and Lounge
Entering the space station, you will find our large kitchen and lounge area, fully prepared for any kind of cooking.
The kitchen has large windows with daylight, a spacious table and a small couch. We always supply our customers with the best in coffee through our state of the art Rancilio espresso machine.
Of course there is free Wi-Fi available for all our guests and customers, and we will also supply the best in horse entertainment when requested.